Court / Man fined after social visit goes wrong
A VISIT to a new neighbour which turned sour has resulted in a man from Lerwick being fined £500.
Ross Morrison, of Lyndhurst Place, admitted shouting, swearing, making threats and behaving aggressively in the block of flats on 6 November.
The 48-year-old also admitted arming himself with a hammer, and assaulting a man in his own flat by butting him on the head to his injury.
mobile/post-mobile/0
Lerwick Sheriff Court heard on Wednesday that Morrison had recently moved into his new home and on the night in question he went to introduce himself to neighbours.
He was invited in but was "clearly intoxicated", the court heard, while there were other people in the flat too.
Mackenzie said Morrison ended up dropping and smashing a glass, and was asked to leave.
He began behaving aggressively, and Mackenzie said that when Morrison left another man followed him out of concern and wanted to calm him down.
mobile/post-mobile/1
Back in his own flat, Morrison then went to a box of tools and took out a hammer. The other man was trying to reason with him, the court heard, but Morrison assaulted him by butting him on his head.
Morrison then apologised for what he had done to the complainer, who had received bruising and swelling.
Defence agent Tommy Allan said that when Morrison was leaving his neighbour's flat he thought he heard insults, and "reacted badly to that".
The solicitor said there was then an altercation, in which Morrison was also struck.
Allan said in the assault in Morrison's flat, the accused "simply lashed out" and the incident was over quickly. The victim remained in the flat and Morrison tried to help by giving him an ice pack.
Allan added: "He would like to apologise to everybody in involved in this."
Sheriff Ian Cruickshank fined Morrison a total of £500 and ordered him to pay an additional £75 in compensation to the assault victim.
Space2face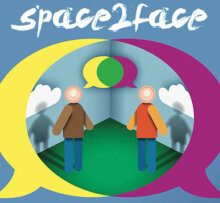 Space2face Shetland is an independent and confidential service which uses Restorative Justice and the arts to bring those harmed by crime or conflict and those responsible for the harm into communication. We enable everyone affected by a particular incident to play a part in repairing the harm and finding a positive way forward.
If you would like to reach out to us, please contact us via e-mail info@space2face.org or mobile 07564 832467.
If you would like to know more, visit our website www.space2face.org, or our Facebook page #space2faceshetland.
---
The project is also currently fundraising to secure office space in Shetland's brand-new creativity and wellness centre, The Mission. If you're interesting in getting involved, or making a donation, head over to www.space2face.org/how-you-can-help