Court / Owner decided to have dangerous dog put to sleep
A WOMAN whose dog bit a birdwatcher repeatedly on the arm has been fined £200 and ordered to pay £150 in compensation.
Jane Leask, of Exnaboe, Virkie, admitted the dog – a German shepherd/rottweiler cross breed called Honey – had been dangerously out of control on agricultural land near her home on 27 May this year.
mobile/post-mobile/0
Procurator fiscal Duncan Mackenzie said the dog had escaped from Leask's property and the victim, a birdwatcher, knew he was going to be bitten from the aggressive manner in which the dog approached him while barking loudly.
He was bitten a number of times on the elbow to his injury, and also received a cut on his leg before people he was with were able to get the dog off him.
Lerwick Sheriff Court heard on Wednesday that Royal Mail had previously refused to deliver mail to the address due to the dog.
Mackenzie said the latest incident had led Leask to realise she could not control the dog and, shortly after police visited in relation to the offence, she had contacted the vet and had Honey put to sleep.
mobile/post-mobile/1
---
A MAN who admitted assaulting his wife by drunkenly striking her on the head has had sentence deferred until March.
Forty five year old Richard Day, of Lerwick's Bruce Crescent, pleaded guilty to committing the offence at a separate address in the town on 28 October this year.
The court heard that Day was already awaiting sentence for a previous domestic aggravation involving the same victim.
He had been drinking to excess and had vomited on the living room floor before going to bed. When she asked him to come and clean it up, he objected and ended up committing the assault.
mobile/post-mobile/2
Mackenzie said the woman was keen for their relationship to continue.
Sheriff Cruickshank said he was "disappointed" to see Day appearing again during a period of deferred sentence.
He deferred both matters to 2 March 2022 and committed Day to bail, warning him that if he committed a further offence in the meantime it could increase his sentence.
---
PUNCHING another man and breaking his nose following a disagreement in a Lerwick pub this summer has cost a 25-year-old man £500.
David Coleman, of the town's Water Lane, admitted punching the man on the head to his injury at the Thule Bar on 14 August this year.
He pleaded guilty by letter and said in mitigation that he had felt "threatened and provoked" following an altercation and responded by assaulting the victim.
Lerwick Sheriff Court heard that Coleman's fist had broken the man's nose, requiring a procedure to have his nose straightened once the swelling had gone down.
---
ASSAULTING a man on a public service bus resulted in a £200 fine for a 37-year-old woman.
Karry Cowan, of Lingaro, Bixter, admitted repeatedly punching and striking the man on the head and body on the Lerwick-Bixter bus at Bolts bus stop.
There had been a "degree of ill feeling" between the woman and the complainer after her daughter made an allegation against him.
They had ended up sitting close to one another on a busy bus and she had thrown a total of three punches. The man did not sustain any serious injuries.
Space2face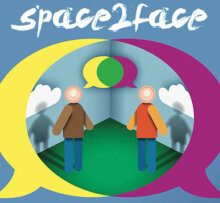 Space2face Shetland is an independent and confidential service which uses Restorative Justice and the arts to bring those harmed by crime or conflict and those responsible for the harm into communication. We enable everyone affected by a particular incident to play a part in repairing the harm and finding a positive way forward.
If you would like to reach out to us, please contact us via e-mail info@space2face.org or mobile 07564 832467.
If you would like to know more, visit our website www.space2face.org, or our Facebook page #space2faceshetland.
---
The project is also currently fundraising to secure office space in Shetland's brand-new creativity and wellness centre, The Mission. If you're interesting in getting involved, or making a donation, head over to www.space2face.org/how-you-can-help