Court / Policing demands of Glasgow climate conference to affect justice system
PARTS of Scotland's justice system will come to a halt for the next three weeks when police officers from across the country are deployed in Glasgow for the upcoming COP26 climate conference.
As a result there will be no summary trials at any court in Scotland, including Lerwick, between 25 October to 12 November, as police officers will be unable to attend as witnesses for sheriff court trials.
The United Nations climate change conference will take place between 31 October and 12 November with word leaders scheduled to attend.
There will be an increased police presence during the event – not only due to the conference but also as protests are expected.
Around 10,000 police officers will be deployed each day.
While Police Scotland said they will be "drafted from all divisions" across the country, the force was unable to say if any are being deployed from Shetland.
Meanwhile a Scottish Courts spokesperson said Lerwick Sheriff Court has advised that in line with the guidance no trials have been scheduled for Thursday 28 October or Thursday 11 November.
A part-heard trial is assigned for 1 and 2 November where there are no police witnesses, hence no impact regarding COP26.
Space2face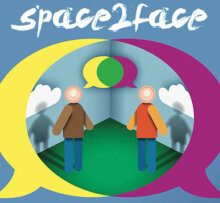 Space2face Shetland is an independent and confidential service which uses Restorative Justice and the arts to bring those harmed by crime or conflict and those responsible for the harm into communication. We enable everyone affected by a particular incident to play a part in repairing the harm and finding a positive way forward.
If you would like to reach out to us, please contact us via e-mail info@space2face.org or mobile 07564 832467.
If you would like to know more, visit our website www.space2face.org, or our Facebook page #space2faceshetland.
---
The project is also currently fundraising to secure office space in Shetland's brand-new creativity and wellness centre, The Mission. If you're interesting in getting involved, or making a donation, head over to www.space2face.org/how-you-can-help