A THIRTY six year old man from Lerwick has admitted being concerned in the supply of cannabis and diazepam.
Barry Dutton, of the town's Bank Lane, had his sentence deferred until a criminal justice report is prepared when he appeared at Lerwick Sheriff Court on Wednesday.
He pleaded guilty to being concerned in the supply of cannabis, a class B drug, at his home address between 8 June and 20 November 2019.
Dutton also admitted being concerned in the supply of diazepam, a class C drug, between 8 June and 3 December 2019 at his home address and at Lerwick Post Office.
Procurator fiscal Duncan Mackenzie said that on 20 November 2019 police executed a search warrant and discovered a cannabis cultivation consisting of 10 mature, well-developed plants in good condition, along with associated equipment.
A mobile phone was also discovered and sent away for analysis.
Before that was complete, on 3 December, diazepam was detected in a parcel addressed to Dutton at Lerwick Post Office.
It was found to contain 210 diazepam tablets.
Analysis of the phone subsequently yielded a large amount of SMS and Whatsapp messages showing Dutton had been dealing the two substances.
He was arrested in September 2020 and fully admitted growing cannabis, claiming the diazepam was for his own consumption.
While Dutton initially denied being concerned in the supply of either, Mackenzie said evidence to the contrary was "overwhelming", with communications related to dealing between Dutton and 10 different individuals.
The 10 cannabis plants would each of had a value in the region of between £250 and £900, while information uncovered showed reference to "close to 3,000" diazepam tablets, each with a value of around £1.
Defence agent Tommy Allan successfully sought a continuation of his client's bail.
Dutton is due to reappear before the court on 15 September.
---
A TEENAGER who last month admitted stepping out of a Lerwick pub and shouting "n****r" at a young woman while she waited at a bus stop has been ordered to pay £500 in compensation to his victim.
Mike Laurenson, 18, of Bigton, had pleaded guilty to the racially aggravated offence at Lerwick Sheriff Court in July.
Sentence had been deferred for a criminal justice report to be compiled.
Laurenson had previously said he was "very sorry" and it was "something I'd take back if I could".
Defence agent Tommy Allan said there was "no valid reason or justification" for the unprovoked slur.
Space2face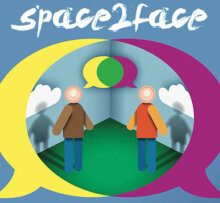 Space2face Shetland is an independent and confidential service which uses Restorative Justice and the arts to bring those harmed by crime or conflict and those responsible for the harm into communication. We enable everyone affected by a particular incident to play a part in repairing the harm and finding a positive way forward.
If you would like to reach out to us, please contact us via e-mail info@space2face.org or mobile 07564 832467.
If you would like to know more, visit our website www.space2face.org, or our Facebook page #space2faceshetland.
---
The project is also currently fundraising to secure office space in Shetland's brand-new creativity and wellness centre, The Mission. If you're interesting in getting involved, or making a donation, head over to www.space2face.org/how-you-can-help