Court / Pair fined after assault
TWO men have each been fined £750 after being found guilty of assault following a night out in Lerwick.
Kieran Llewellyn, 24, and Callen Laurenson, 23, both of Burra, faced trial at Lerwick Sheriff Court on Thursday after denying they assaulting a man to his injury on the Esplanade nearly two years ago.
However, Sheriff Ian Cruickshank ruled that both acted together and assaulted their victim, who received superficial injuries.
The man was rendered unconscious in the incident but the court heard it was not fully clear whether this was due to his head hitting the concrete ground.
The pair were found guilty of assaulting the man on 22 September 2019 while acting together, repeatedly kicking and punching him on his head and body to his injury.
The incident happened near the Bressay ferry terminal in the early hours of the morning as two separate groups of three men walked on either side of the road towards the taxi rank.
During evidence the court heard opposing views as to whether the complainer was kicked when on the ground.
The complainer told court he was assaulted after approaching the pair over why they had smashed glass on the street.
But another witness said the complainer had "sprinted" across the road for no clear reason to punch Llewellyn on the back of the head – which then caused a scuffle.
The court heard that Llewellyn had punched the complainer twice on the head in response to being hit himself, but he denied accusations he kicked the man when he was on the ground.
During evidence the court heard that Laurenson grappled with the complainer after Llewellyn was hit.
One witness said that after a couple of punches were thrown against the man he led his friends Llewellyn and Laurenson away before returning himself to check on the complainer, who had fallen unconscious before coming to.
The complainer said he was taken to hospital for observations following the head knock, while the court heard Llewellyn also had checks from a doctor following the incident.
The court heard that all involved had been drinking that night.
Defence agent Liam McAllister, representing Laurenson, and Tommy Allan, defending Llewellyn, both suggested the complainer was the aggressor in this instance.
But after weighing up the evidence Sheriff Cruickshank found the pair guilty of the assault charge, ruling that kicking was involved.
Space2face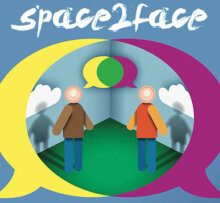 Space2face Shetland is an independent and confidential service which uses Restorative Justice and the arts to bring those harmed by crime or conflict and those responsible for the harm into communication. We enable everyone affected by a particular incident to play a part in repairing the harm and finding a positive way forward.
If you would like to reach out to us, please contact us via e-mail info@space2face.org or mobile 07564 832467.
If you would like to know more, visit our website www.space2face.org, or our Facebook page #space2faceshetland.
---
The project is also currently fundraising to secure office space in Shetland's brand-new creativity and wellness centre, The Mission. If you're interesting in getting involved, or making a donation, head over to www.space2face.org/how-you-can-help