Court / Sentence deferred on man who attacked ex-partner
A MAN from Lerwick has narrowly escaped custody pending social work reports after admitting assaulting his ex-partner and stealing money from her.
Andrew Lewing, whose address given in court as Ladies Drive, stole money totalling £3,500 to £3,800 from his ex's savings on various occasions between 21 July 2018 and 12 August last year.
The 31-year-old ex-serviceman also admitted assaulting her on two occasions.
The first time, on 21 July 2018, at their Lerwick home, Lewing admitted pushing his pregnant ex against a kitchen counter top, squeezing her throat and pushing her against a wall where she banged her head.
On the second occasion, almost a year later, Lewing admitted repeatedly pushing her on the body while she had a baby in her arms and seizing her and pushing her by the face.
Lewing admitted stealing money from various saving jars and boxes around the house on four occasions.
This culminated when his partner came back from a trip south on 12 August last year and found her locked moneybox empty. She had kept the keys in her car for safe keeping, but Lewing had found them.
This was the final straw, after which she left him, procurator fiscal Duncan Mackenzie told Lerwick Sheriff Court on Wednesday.
Lewing also pleaded guilty to using a debit card belonging to his ex-partner to buy goods worth £30 at Tesco on 13 December 2018.
All the offences were aggravated by abuse of a partner or ex-partner.
Sheriff Ian Cruickshank called for a criminal justice social work report before passing sentence next month.
He said that he had given "serious consideration" to remanding Lewing in the meantime and was "only just persuaded" that bail should continue.
He said that there was a "high probability" Lewing could end up with a custodial sentence.
Space2face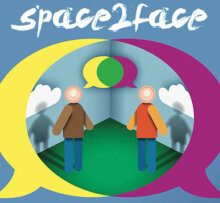 Space2face Shetland is an independent and confidential service which uses Restorative Justice and the arts to bring those harmed by crime or conflict and those responsible for the harm into communication. We enable everyone affected by a particular incident to play a part in repairing the harm and finding a positive way forward.
If you would like to reach out to us, please contact us via e-mail info@space2face.org or mobile 07564 832467.
If you would like to know more, visit our website www.space2face.org, or our Facebook page #space2faceshetland.
---
The project is also currently fundraising to secure office space in Shetland's brand-new creativity and wellness centre, The Mission. If you're interesting in getting involved, or making a donation, head over to www.space2face.org/how-you-can-help