Court / Man admits 'appalling' catalogue of domestic abuse
A FORTY three year old man has been taken into custody after admitting a lengthy catalogue of domestic abuse charges against three women.
Lerwick Sheriff Court heard on Wednesday how Norman Donald subjected his victims to some "truly appalling" and "relentless" coercive behaviour including abduction and several counts of assault.
Donald, of Leaside, Mossbank, also admitted carrying out threatening and abusive behaviour towards the women, including destroying mobile phones, destroying one of his victim's passport and controlling and monitoring their communication with friends and family.
He pleaded guilty to a total of five charges dating from November 2016 to May 2020. The earlier offences took place at an address in Aberdeen, while the two later charges refer to offences at two different addresses at Mossbank.
Procurator fiscal Duncan Mackenzie described the case as "significant" in many aspects such as the police time that has gone into the investigation and the number of statements and productions that have been produced in support of the Crown's case.
"This was a truly appalling catalogue of abuse against three complainers," the fiscal said.
The court heard that shortly after starting relationships with Donald his victims started to live in fear as he escalated the level of control over them.
The 43-year-old admitted abducting and detaining his ex-partner against her will in their home in Aberdeen between 1 January and 31 March 2017, locking the only door to the flat and depriving her access to the key.
He also pleaded guilty to throwing a ladder at his victim, kicking her, grabbing her throat and compressing her throat, repeatedly punching her on the head and body, all to her injury, on several occasions between 1 January and 31 March 2017.
Further, and at the same Aberdeen address between 1 November 2016 and 9 May 2017, he admitted destroying her mobile phone, destroying her passport, threatening violence, threatening to kill her, forcing entry to a locked bathroom where she was hiding, and repeatedly monitoring, controlling and regulating her communications and contact with family and friends.
In two short relationships in Shetland, one in the summer of 2019 and the other in early 2020, Donald continued with the same pattern of behaviour.
He admitted that on 9 September 2019, at an address in Mossbank, he repeatedly struck his victim on the body with a knife to her injury.
Two weeks later, on 23 September, Donald presented a knife and repeatedly thrust the knife at the woman, "whereby she sustained injury as a consequence of grabbing the blade in an attempt to protect herself".
Finally, Donald pleaded guilty to a charge of abusive behaviour towards his third victim, including controlling and monitoring her communications and contact with friends and family, threatening violence, pulling her hair and punching her.
These offences took place at a second address in Mossbank between 20 March and 13 May 2020.
Defence solicitor Tommy Allan said he would speak in mitigation on behalf of his client at the next court hearing, but added that Donald "is under no illusions as to the outcome of this".
Bail was revoked and Donald was taken into custody.
Sheriff Ian Cruickshank asked for a criminal justice report. Donald will reappear at the court for sentencing on 14 April.
Space2face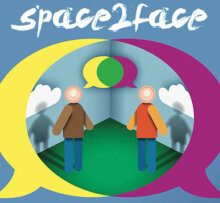 Space2face Shetland is an independent and confidential service which uses Restorative Justice and the arts to bring those harmed by crime or conflict and those responsible for the harm into communication. We enable everyone affected by a particular incident to play a part in repairing the harm and finding a positive way forward.
If you would like to reach out to us, please contact us via e-mail info@space2face.org or mobile 07564 832467.
If you would like to know more, visit our website www.space2face.org, or our Facebook page #space2faceshetland.
---
The project is also currently fundraising to secure office space in Shetland's brand-new creativity and wellness centre, The Mission. If you're interesting in getting involved, or making a donation, head over to www.space2face.org/how-you-can-help