Court / Round-up from Thursday's Lerwick Sheriff Court
A MAN from Lerwick who assaulted his ex partner by pushing and pulling her on the body after she turned up to his house uninvited has been given unpaid work to complete.
Dale Henry, of Hoofields, admitted at Lerwick Sheriff Court on Thursday to assaulting the woman at his home address on 4 February.
The 36-year-old also pleaded guilty damaging a mobile phone by repeatedly striking it on the ground.
Procurator fiscal Duncan Mackenzie said Henry had previously been in a relationship with the complainer, with the pair having a young child together.
He told the court that the incident happened when Henry was looking after the child in his home while another female was in his company.
The complainer unexpectedly turned up with food for the child, Mackenzie said, and become upset that her ex was with another woman.
An argument ensued and Henry ended up pushing and pulling the woman in an attempt to get her mobile phone off her before striking it off the ground.
Defence agent Tommy Allan said the complainer had "reacted badly by lashing out at Henry" after she saw the other woman, who was just a friend he had met at church.
Allan said Henry had been "fearful of his own safety" and put the complainer out of the house.
The solicitor told the court that the complainer said she was going to phone the police and "get him done for assault".
Allan added that the woman had also "barraged" Henry by text, contacted the woman in his home and had attended the church that he goes to.
Sheriff Ian Cruickshank remarked that the number of domestic abuse cases coming before court "increases daily", describing it as a "real societal issue".
But he said all factors had to be taken into consideration and gave Henry 90 hours of unpaid work and a compensation order of £120 for the damage to the phone.
---
A WOMAN who assaulted a man the day she was released on bail from Lerwick Sheriff Court has been placed under supervision and given unpaid work to complete.
India Lockyer, of Marthastoon, Aith, appeared at the court on Thursday to admit the charge of assault which took place on Lerwick's Commercial Street on 29 January while she was on bail.
The 25-year-old admitted repeatedly attempting to punch the man, repeatedly kicking him, punching his head and seizing and scratching his head, all to his injury.
Procurator fiscal Duncan Mackenzie said Lockyer had gone out for drinks on the day she had been liberated on bail, but her behaviour deteriorated due to the amount of alcohol she had consumed.
The evening ended up with Lockyer becoming angry and punching the man, who she had earlier been in the company of, and grabbing him by the face.
Defence agent Liam McAllister noted that his client had spent 26 days in custody as a result of the incident.
"Since her release on bail…she has remained alcohol free," the solicitor told the court.
Sheriff Ian Cruickshank placed Lockyer under supervision for 12 months and gave her 80 hours of unpaid work to complete.
---
THERE was a discussion in court on Thursday about the merit of sentencing historical domestic offences where both parties have moved on.
Andrew Cross, of Mulla, Voe, appeared at Lerwick Sheriff Court to admit assaulting his then partner at an address in Aith on 25 December 2013.
The charge stated that he placed her in a headlock, pushed her on the body and attempted to wrestle her to the floor, all to her injury,
The court heard that the incident happened after the 33-year-old had been drinking with his then partner's family on Christmas Day, with the woman deciding to break up with him after his behaviour proved to be the final straw.
Procurator fiscal Duncan Mackenzie said Cross had reacted badly to this and carried out the offence before the woman's father collected her. The incident only came to light after it was reported in 2018.
But Sheriff Ian Cruickshank questioned: "Why is it in the public interest to prosecute this?"
Mackenzie said the prosecution service takes a zero tolerance approach to domestic abuse, adding that the "passage of time would not diminish the seriousness" of a crime.
The sheriff agreed, but added: "What meaningful sentence can a court impose on something that happened six years ago, when the parties have moved on?"
Defence agent Liam McAllister reiterated that his client had moved on in life and had a new long-term partner.
Concluding the case, Sheriff Cruickshank said: "I do not condone for one minute domestic abuse in any shape or form."
But he took into account the fact that the case was a summary matter resulting in a minor injury and that Cross had not come to police attention since, and ruled that the incident was best dealt with by admonishing Cross and simply recording that the offence took place.
Space2face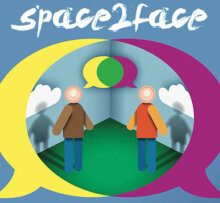 Space2face Shetland is an independent and confidential service which uses Restorative Justice and the arts to bring those harmed by crime or conflict and those responsible for the harm into communication. We enable everyone affected by a particular incident to play a part in repairing the harm and finding a positive way forward.
If you would like to reach out to us, please contact us via e-mail info@space2face.org or mobile 07564 832467.
If you would like to know more, visit our website www.space2face.org, or our Facebook page #space2faceshetland.
---
The project is also currently fundraising to secure office space in Shetland's brand-new creativity and wellness centre, The Mission. If you're interesting in getting involved, or making a donation, head over to www.space2face.org/how-you-can-help