Court / Court takes zero tolerance approach to domestic abuse
LERWICK Sheriff Court is taking a "zero tolerance" approach towards domestic abuse cases, sheriff Ian Cruickshank warned on Wednesday.
On a day the court had again to deal with several such cases, the sheriff made clear that he intended to take a tough approach towards domestic abuse and said that no one should be suffering from abuse in a relationship.
In addition to the Colin Robertson case (see separate report), the sheriff deferred sentence on two other cases for social inquiry reports as well as restriction of liberty reports.
In the first case, Thomas Currie of Stennestwatt, in Walls, admitted to seriously assaulting two people, including his partner, on the night of 12 May last year at the Mid Brae Inn and a further address in Brae.
The other victim was severely injured and permanently impaired when knocked to the ground by the 27 year old.
Later in the night, Currie injured his partner by assaulting her when he forcibly took her handbag from her grasp and struck her on the head with it.
Bail will be continued until 27 March when Currie will appear for sentencing.
He will however be back in court in two weeks time to face further domestic abuse charges. These complaints were continued without plea on Wednesday.
And in a second case, Neil Jamieson, of Ladies Drive, Lerwick, pleaded guilty to threatening and abusive behaviour towards his partner of 18 years when he was shouting, swearing and making threats on 18 January at a Lerwick address.
Defending himself, the 49 year old described it as an alcohol driven one-off incident, and added that he hadn't had any alcohol since then.
Reminding him that it had happened before, the sheriff then said that "the court is taking a zero tolerance acceptance towards domestic abuse".
He released Jamieson on bail, asked for social inquiry and restriction of liberty reports and deferred sentence until 27 March.
Space2face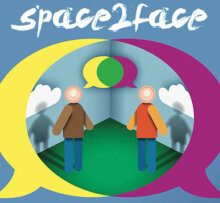 Space2face Shetland is an independent and confidential service which uses Restorative Justice and the arts to bring those harmed by crime or conflict and those responsible for the harm into communication. We enable everyone affected by a particular incident to play a part in repairing the harm and finding a positive way forward.
If you would like to reach out to us, please contact us via e-mail info@space2face.org or mobile 07564 832467.
If you would like to know more, visit our website www.space2face.org, or our Facebook page #space2faceshetland.
---
The project is also currently fundraising to secure office space in Shetland's brand-new creativity and wellness centre, The Mission. If you're interesting in getting involved, or making a donation, head over to www.space2face.org/how-you-can-help