Court / 'Terrorising' the people of Lerwick leads to eight month prison sentence
A MAN who "terrorised the good citizens of Lerwick" on a Thursday afternoon has been sent to jail for eight months.
Appearing at Lerwick Sheriff Court from custody via video link, Grant Huntington admitted a string of offences committed in the town on 25 February.
Defence agent Gregor Kelly said his client, of Lerwick's Union St, had mixed valium with alcohol with "disastrous consequences" and had no recollection of any of the incidents.
He admitted behaving aggressively to staff at the Alex Morrisons shop in Lerwick on two occasions on 25 February, and shouting, swearing and refusing to leave.
The 32 year old also pleaded guilty to assaulting two employees of Anderson's butchers on Lerwick's Commercial Road, as well as repeatedly kicking a door on St Magnus St, attempting to enter the house, shouting and throwing a rock, smashing a window.
He also admitted behaving aggressively towards an employee at the public toilets at Irvine Place.
Procurator fiscal Duncan Mackenzie said it was a course of conduct that lasted for around two hours, starting from about midday.
The court heard that Huntington went to Alex Morrison's, where he previously had been barred, and demanded to speak to the manager.
A short time later the incidents at the butcher's took place.
He then tried to attend a house on St Magnus St, but was asked to leave. "As he went out he threw a rock through the living room window," Mackenzie said.
The court heard that Huntington, who was by now bleeding, then attended the public toilets in Lerwick and became abusive to the staff member there.
Kelly said the offences occurred shortly after Huntington had come out of prison.
He said that his client was apologetic and embarrassed for "terrorising" people in Lerwick.
"He hopes that at some stage when he's released [from prison] he will go on to have a positive life," Kelly said.
Sheriff Ian Cruickshank gave Huntington a total of eight months in prison and backdated the sentence to when he was first taken into custody on 26 February.
Space2face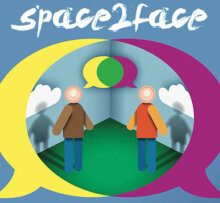 Space2face Shetland is an independent and confidential service which uses Restorative Justice and the arts to bring those harmed by crime or conflict and those responsible for the harm into communication. We enable everyone affected by a particular incident to play a part in repairing the harm and finding a positive way forward.
If you would like to reach out to us, please contact us via e-mail info@space2face.org or mobile 07564 832467.
If you would like to know more, visit our website www.space2face.org, or our Facebook page #space2faceshetland.
---
The project is also currently fundraising to secure office space in Shetland's brand-new creativity and wellness centre, The Mission. If you're interesting in getting involved, or making a donation, head over to www.space2face.org/how-you-can-help