Court / Woman bailed after admitting theft
A WOMAN has been released on bail after admitting stealing a handbag from her grandmother and attempting to withdraw money from ATMs using one of her bank cards.
Dawn Nicole Smith, who appeared from custody in prison via video link, admitted the offences at Lerwick Sheriff Court on Wednesday.
Smith, 27, whose address was given as Ladies Drive, stole her grandmother's bag from her house in Sandwick on 10 June. Inside were two bank cards, a phone, car keys and £58.
mobile/post-mobile/0
She later used one of the cards in an unsuccessful attempt to get money from Tesco and the Bank of Scotland in Commercial Street. She committed the theft while on bail for a string of offences in Kirkcaldy and Shetland.
Smith had committed a similar theft from her granny in 2016 and this gave her grandmother the foreknowledge to cancel the card when she realised her bag was missing.
The court heard that Smith has a significant drug addiction problem and her behaviour was driven by this.
mobile/post-mobile/1
Procurator fiscal Duncan Mackenzie said that Smith's 72-year-old granny had supported her while she was going through an "enduring problem" with drugs and that a significant breach of trust had been involved.
She had seized the opportunity to take the handbag when her grandmother had gone to an appointment in Lerwick with a home help, after Smith had stayed overnight.
On returning and finding Smith gone and the bag missing, the grandmother had known it was stolen as a result of "previous bitter experience."
mobile/post-mobile/2
Defence agent Tommy Allan said that while Smith had been remanded in custody she was in a position to seek help with her background of drug dependancy.
Her life had "spiralled out of control" after she had returned home from a spell south and she had fallen in with "bad company", but she had been given hope that she could enter rehab and free herself from addiction, Allan said.
Sheriff Ian Cruickshank said that given the national state of affairs with drugs the case was a "timely reminder" that something needed to be done.
He said: "It is a very sad set of circumstances and again shows what a problem we have in society with the abuse of drugs and what that leads to.
"We are hoping to make it a better society and if at all possible we want to keep people out of jail."
The sheriff adjourned the case for a social work report and a restriction of liberty assessment and the provision of a drug treatment and testing order. He also warned Smith that although she was being bailed, a custodial sentence remains "a very real possibility".
Space2face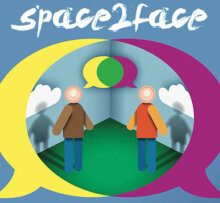 Space2face Shetland is an independent and confidential service which uses Restorative Justice and the arts to bring those harmed by crime or conflict and those responsible for the harm into communication. We enable everyone affected by a particular incident to play a part in repairing the harm and finding a positive way forward.
If you would like to reach out to us, please contact us via e-mail info@space2face.org or mobile 07564 832467.
If you would like to know more, visit our website www.space2face.org, or our Facebook page #space2faceshetland.
---
The project is also currently fundraising to secure office space in Shetland's brand-new creativity and wellness centre, The Mission. If you're interesting in getting involved, or making a donation, head over to www.space2face.org/how-you-can-help