Court / Knife assault lands man prison sentence
A MAN who attempted to strike another man with a kitchen knife in a "vicious and frenzied" attack – cutting holes in his jacket in the process – has been sent to prison for nearly two years.
Adam Nelson, whose address was given as Grampian Prison, carried out the assault in a housing scheme in the middle of the day, with a young teenager among the witnesses.
Sheriff Ian Cruickshank said it was "by extreme good fortune" no significant injury was caused.
The 30-year-old appeared from custody at Lerwick Sheriff Court on Monday to admit the offence, which took place at an address in the town's Hill Grind at 2 February.
He admitted assaulting a man and presenting a knife at him, and repeatedly attempting to strike him on the body with a knife.
Procurator fiscal Duncan Mackenzie said Nelson was at an address "clearly significantly intoxicated by some substance" when the complainer attended with his brother.
Nelson then retrieved a "large kitchen knife" from a drawer and "effectively pursued the complainer to the garden", the court heard.
"The accused made repeated thrusts with the knife at the complainer," Mackenzie continued.
While the complainer was able to jump out of the way, his jacket suffered three "quite significant cuts".
The jacket "afforded him some degree of protection" from the six-inch blade, Mackenzie said.
There was a number of witnesses to the offence, with one person seeing Nelson make "slashing" movements and and one telling police he was "shredding" the man's jacket.
"Exhaustion played a part in the matter coming to an end," Mackenzie explained.
The knife had broken off from the handle during the assault and a witness threw the blade down a nearby drain, from where it was later recovered.
Mackenzie said Nelson was arrested and taken to the police station, but he was in "no fit state to be interviewed.
Defence agent Tommy Allan said his client's recollection of the incident was a little different.
The solicitor added that Nelson said there were a number of people intoxicated in the house and that the complainer and his brother arrived before challenging them.
Nelson accepted that he "became enraged" and confronted them outside of the house, Allan said. The solicitor said the incident "did not last a great amount of time".
Allan said that there was "no getting away from the fact that drugs have been a major issue" for his client.
He said at the time of the offence his life had been enjoying "relative stability", but problems around his family caused him to "revert to old ways".
Allan said Nelson had contacted the substance misuse team and that efforts had been ongoing to get him a place in rehab.
Sheriff Ian Cruickshank ruled that there was no alternative to custody.
"This was a vicious and frenzied attack and it's only by extreme good fortune there was no significant injury inflicted on the complainer," he said.
Sheriff Cruickshank gave Nelson a total of 21 months and two weeks in prison, with the sentence backdated to 4 February.
Space2face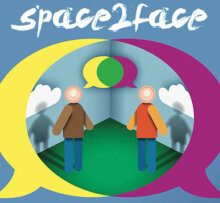 Space2face Shetland is an independent and confidential service which uses Restorative Justice and the arts to bring those harmed by crime or conflict and those responsible for the harm into communication. We enable everyone affected by a particular incident to play a part in repairing the harm and finding a positive way forward.
If you would like to reach out to us, please contact us via e-mail info@space2face.org or mobile 07564 832467.
If you would like to know more, visit our website www.space2face.org, or our Facebook page #space2faceshetland.
---
The project is also currently fundraising to secure office space in Shetland's brand-new creativity and wellness centre, The Mission. If you're interesting in getting involved, or making a donation, head over to www.space2face.org/how-you-can-help