Court / Cunningsburgh collision man banned for a year
AN ECUADORIAN who caused a crash by driving on the wrong side of the road at the Cliffs of Cunningsburgh has had his driving licence taken away for a year. 
Hernan Guerreru, 35, of Glenlee, Cunningsburgh, admitted dangerous driving on 7 November last year.
Lerwick Sheriff Court heard on Wednesday that Guerreru had dropped off his children at swimming in Sandwick and was heading north on the wrong carriageway of the A970 when he collided with an oncoming vehicle, causing minor injuries to himself and the other driver.
Procurator fiscal Duncan MacKenzie said that Guerreru, who had no previous convictions, was extremely concerned about the other driver's welfare and apologetic about what had happened.
Mackenzie said that the other driver had been confronted by headlights coming towards her on her own side of the road and had slowed down and flashed her lights before attempting to swerve off the road, but had been unable to prevent a crash.
The collision happened at 4.05pm when there were many other cars on the road and several drivers stopped to offer help. Both drivers were taken to hospital for a check up, but were found to have sustained only minor injuries.
Mackenzie said it was "particularly telling" the case appeared in court only the day after a major road safety campaign aimed at foreign motorists driving on the wrong side of the road in the Highlands and Islands.
Tommy Allan, defending, said that Guerreru and his family had moved to the UK in November 2017 and Guerreru had a fair bit of experience driving in Shetland. While he had admitted dangerous driving, his offence stemmed from a momentary lapse rather than a reckless course of conduct.
He said that Guerreru had accepted his responsibility immediately. Allan understood that the other driver had not wanted to press charges but that was not "within her gift."
Sheriff Ian Cruickshank said that as Guerreru had pleaded guilty to dangerous driving he had no option but to impose a minimum disqualification of one year.
He also ordered Guerreru to pass an extended test of competence before getting his licence back and fined him £600.
Space2face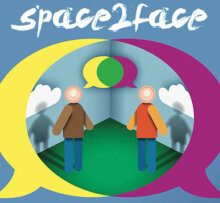 Space2face Shetland is an independent and confidential service which uses Restorative Justice and the arts to bring those harmed by crime or conflict and those responsible for the harm into communication. We enable everyone affected by a particular incident to play a part in repairing the harm and finding a positive way forward.
If you would like to reach out to us, please contact us via e-mail info@space2face.org or mobile 07564 832467.
If you would like to know more, visit our website www.space2face.org, or our Facebook page #space2faceshetland.
---
The project is also currently fundraising to secure office space in Shetland's brand-new creativity and wellness centre, The Mission. If you're interesting in getting involved, or making a donation, head over to www.space2face.org/how-you-can-help