Also in the news / Covid numbers down, new leisure partnership, search for missing pony, SaxaVord sustainability, new CLAN chief
COVID numbers in Shetland have dropped to their lowest level in quite some time with just four new (PCR tested) cases during the last 72 hours since Friday.
Nationally, there were 2,910 new cases identified by PCR test, and 6,221 when combined with logged Lateral Flow Tests (LFTs).
Ahead of Tuesday's latest update by first minister Nicola Sturgeon, in which she is expected to announce further lifting of restrictions, the Scottish Conservatives have called for all Covid measures to be scrapped from 31 January, including and end to all business restrictions and the removal of the vaccine passport scheme.
mobile/post-mobile/0
---
SHETLAND Recreational Trust has joined the Leisure Link Partnership allowing those who hold a More4life card to access gym, public swimming and fitness classes at leisure centres in Aberdeen, Argyll and Bute, the Borders, Highland, Moray, Orkney, and the Western Isles at no extra cost.
The More4life membership card was only introduced for the trust's eight local leisure centres in November last year and has proved highly successful since.
mobile/post-mobile/1
Head of operations Robert Geddes said the trust was delighted to be able to give members the opportunity to keep active at leisure facilities across the country.
"This flexibility means that people working away from home or on holiday can use local facilities from participating areas as part of their existing home-based membership," he said.
---
LERWICK lifeboat carried out a coastal search at South Nesting bay on Saturday after a Shetland pony was reported missing on Friday.
The crew diverted their planned exercise and said they launched their inflatable 'Y-boat' to have a closer look along the coastline at Brettabister, but nothing was found.
mobile/post-mobile/2
Owner Kev Bryant said on his Facebook page on Friday that the seven year old pony Toby had gone missing in the last day or two, and asked people to keep an eye out for the stallion.
---
SAXAVORD UK Spaceport has appointed Oxford University graduate Sorcha Leavey as its sustainability officer.
The full-time, year-long post is supported by Highlands and Islands Enterprise.
Leavey, who will be based in Unst, said: "The SaxaVord plans place the mitigation of environmental impacts front and centre, but I am enthusiastic about doing more.
"I think the spaceport in Unst can play a key role in achieving positive, long-lasting improvements to operations here on earth and in space."
---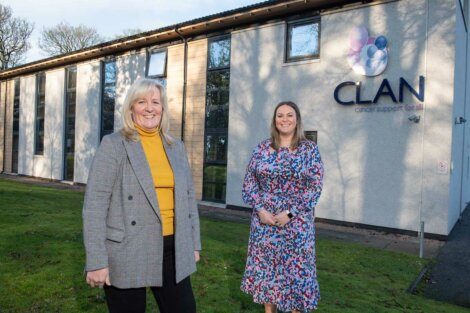 CLAN cancer support has announced that its chief executive Dr Colette Backwell is to step down in spring and will hand over the reins to Fiona Fernie, the charity's current head of income generation.
Fernie joined Clan in 2017 after spending 109 years at Aberdeen & Grampian Chamber of Commerce developing their training offering and was involved in notable regional projects, such as the inaugural Great Aberdeen Run in 2017.
mobile/post-mobile/3
Dr Backwell said: "I am delighted to announce the appointment of Fiona as my successor, and it is with pride and confidence that I hand over the leadership of this great charity to her in March."
Fernie said: "Having been with the charity for almost five years and having learned so much from Colette during that time, I have many personal aspirations as to how we grow our vital service delivery for individuals and families across the North-east of Scotland, Moray, Orkney & Shetland.
"We have an outstanding team of people with a passion for our charity, our values and our purpose and I am excited to see what we can achieve collectively over the coming years."
Become a supporter of Shetland News
Shetland News is asking its many readers to consider start paying for their dose of the latest local news delivered straight to their PC, tablet or mobile phone.
Journalism comes at a price and because that price is not being paid in today's rapidly changing media world, most publishers - national and local - struggle financially despite very healthy audience figures.
Most online publishers have started charging for access to their websites, others have chosen a different route. Shetland News currently has  over 540 supporters  who are all making small voluntary financial contributions. All funds go towards covering our cost and improving the service further.
Your contribution will ensure Shetland News can: -
Bring you the headlines as they happen;
Stay editorially independent;
Give a voice to the community;
Grow site traffic further;
Research and publish more in-depth news, including more Shetland Lives features.
If you appreciate what we do and feel strongly about impartial local journalism, then please become a supporter of Shetland News by either making a single payment or monthly subscription.
Support us from as little as £3 per month – it only takes a minute to sign up. Thank you.
Support Shetland News
Already a supporter? Sign in to hide this message.