Court / Justice run 'on a shoestring' does not serve anyone – Wishart demands action
SHETLAND MSP Beatrice Wishart has accused the Scottish Government of running the justice system "on a shoestring" and has called for action to prevent defendants and victims from "waiting years for a trial".
She was speaking after an alleged assault case called at Lerwick Sheriff Court on Wednesday and was set down for a jury trial in Aberdeen two and half years later in the spring of 2024.
The Scottish Courts and Tribunals service has now clarified that there had been a clerical error and that the date for William Mays to face trial should in fact have been April 2023.
However, as sheriff Ian Cruickshank noted in court on Thursday, that is still more than 18 months away and means the case will be heard five years after the initial alleged offence occurred.
Wishart said that the Liberal Democrats' research prior to the Covid-19 pandemic had identified over 50,000 cases breaching a 26-week timescale between caution and charge.
"That's around one in three cases," she said. "The pandemic made things much, much worse.
"We need to have a justice system that is equipped to respond to the public interest and is fair. Waiting years for a trial does not meet those aims and does not serve anyone involved.
"The Scottish Government needs to fund our justice system appropriately. We cannot continue to act as though justice on a shoestring is sufficient."
A spokesman for the court service said it acknowledged and was "deeply aware of the impact the Covid-19 pandemic has had on court business and the impact this has on all involved in court proceedings".
"We are examining how solemn trials in the Grampian, Highlands and Islands sheriffdom can be brought forward to shorter timescales and are continuing to get cases through court at the earliest opportunity while maintaining a safe environment for all involved."
Currently, all jury trials at Lerwick Sheriff Court have been transferred to Aberdeen Sheriff Court because social distancing requirements cannot be complied with in Lerwick.
The spokesperson added that the service had "quickly implemented innovative virtual processes" to conduct business safely during the pandemic.
"Despite this, there is a significant backlog of criminal cases and a recovery programme with 12 additional sheriff solemn and sheriff summary courts commenced on 6 September to help reduce this backlog."
Space2face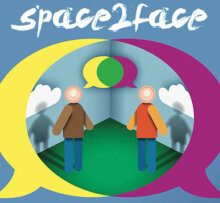 Space2face Shetland is an independent and confidential service which uses Restorative Justice and the arts to bring those harmed by crime or conflict and those responsible for the harm into communication. We enable everyone affected by a particular incident to play a part in repairing the harm and finding a positive way forward.
If you would like to reach out to us, please contact us via e-mail info@space2face.org or mobile 07564 832467.
If you would like to know more, visit our website www.space2face.org, or our Facebook page #space2faceshetland.
---
The project is also currently fundraising to secure office space in Shetland's brand-new creativity and wellness centre, The Mission. If you're interesting in getting involved, or making a donation, head over to www.space2face.org/how-you-can-help