Court / Cake raider has sentence increased by four months
A MAN who appeared at Lerwick Sheriff Court from prison has had four months added to his jail sentence for his part in an affray in the town last year.
Kyle Swannie, 23, address given as Bakland in Lerwick, admitted threatening and abusive behaviour at an address in Lerwick last year and also stealing cakes from a cake fridge on various occasions.
Swannie acted in a threatening manner by confronting a householder in the town's North Road on 16 November. He admitted kicking a door repeatedly and threatening to stab the householder and making homophobic comments after the man went to phone the police.
According to procurator Duncan Mackenzie, Swannie was also seen pulling "something" from his waistband.
His co-accused, 34-year-old Sarah Patterson, of Hoofields, came charging up the road on hearing the row and punched the complainer, causing a small cut on the inside of his lip.
Tommy Allan, defending said that there was "clearly an altercation and as usual she became involved."
And he added that "the usual verbal diarrhoea spewed" from Swannie's mouth, during the incident.
Swannie also admitted stealing a total of 16 boxes of cakes from Something Sweet in St Olaf Street on four raids in October and November last year.
"For what it is worth, he said the cakes were brilliant," said Allan, adding that Swannie had stolen the cakes because he was hungry and spent all his money buying drugs.
Patterson who also pleaded guilty, was sentenced to a stand-alone community payback order of 12 months and was ordered to complete 80 hours of unpaid work as an alternative to custody.
Swannie was sentenced to four months concurrent imprisonment for his two offences, with the time to be served on expiry of his existing prison sentence in May.
Space2face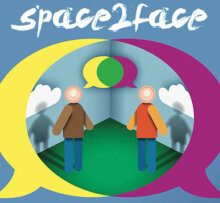 Space2face Shetland is an independent and confidential service which uses Restorative Justice and the arts to bring those harmed by crime or conflict and those responsible for the harm into communication. We enable everyone affected by a particular incident to play a part in repairing the harm and finding a positive way forward.
If you would like to reach out to us, please contact us via e-mail info@space2face.org or mobile 07564 832467.
If you would like to know more, visit our website www.space2face.org, or our Facebook page #space2faceshetland.
---
The project is also currently fundraising to secure office space in Shetland's brand-new creativity and wellness centre, The Mission. If you're interesting in getting involved, or making a donation, head over to www.space2face.org/how-you-can-help