Court / Court round-up 2 February 2022
TWO BROTHERS from Glasgow who admitted assaulting staff members at a bar in Lerwick town centre last summer have been fined a combined total of £1,900.
Forty five year old Brian Kirkpatrick and 44 year old Paul Kirkpatrick, both of Birgidale Terrace, Castlemilk, admitted assaulting a male employee by repeatedly punching and kicking him on the head and body to his injury on 24 July last year.
They also admitted assaulting a woman working within the premises, grabbing hold of her, attempting to punch her and repeatedly pushing her to the ground on the same date.
Brian Kirkpatrick further admitted resisting, obstructing or hindering three police officers and attempting to walk away after being apprehended, then struggling with the officers.
He also behaved in a threatening or abusive and racially aggravated manner at Lerwick Police Station by repeatedly shouting "f******g black b******s" at the officers.
Procurator fiscal Duncan Mackenzie said the brothers had become involved in "some sort of altercation with other males" and when they were told to "pack it in" the situation worsened and they assaulted both staff members who attempted to intervene.
The manageress was able to contact police but "they were not cooperative at all".
The male victim suffered a fractured nose which took up to eight weeks to heal properly.
Sheriff Cruickshank fined Brian Kirkpatrick £1,200 and Paul Kirkpatrick £700.
---
 A NINETEEN year old from Voe has admitted driving dangerously at speeds in excess of 100mph under the influence of controlled drugs while being pursued by police. 
Jack Garrick, of Vamer, admitted committing the offence on 12 December 2020 when he appeared at Lerwick Sheriff Court on Wednesday.
The incident took place on the A970 road from around 200 metres north of the Kergord junction to Muckle Roe, and on the unclassified road at Ollaberry School.
Having consumed controlled drugs, Garrick drove dangerously  at "grossly excessive" speeds in wet road conditions "with standing water in places" while police, in pursuit, indicated for him to stop.
He drove on the wrong side of the road, including around blind bends, collided with a fence causing damage to it and resulting in his car coming to rest on its side.
Sheriff Ian Cruickshank imposed an interim disqualification and called for a criminal justice social work report. Garrick will appear for sentencing on 2 March.
---
A MAN who took an unsolicited photo of a teenage girl in a Lerwick supermarket has been given a 12-month community payback order.
Seventy three year old Brian Laing, of the town's Staneyhill, previously admitted behaving in a threatening or abusive manner by taking a photo of the 16 year old's bottom without her consent as she shopped in Tesco's South Road store with her grandmother.
During the 21 November incident he also followed the girl and her grandmother and persistently stared at them.
Defence agent Tommy Allan said his client could not argue against the offence having had a significant sexual element.
Sheriff Cruickshank said a social work report outlined a "number of deep-seated issues" that Laing "would need to explore".
He granted forfeiture of Laing's mobile phone and imposed the community payback order. He will also be subject to notification requirements under sexual offences legislation for a year.
---
A RESTAURANT worker whose dog was dangerously out of control and bit a woman on the arm has been ordered to pay a total of £570.
Twenty one year old Vaila Williamson, of Lerwick's Thorfinn Street, admitted being the owner of a German shepherd/Rottweiler cross breed that lunged at and injured the woman at the Knab on 11 October last year. The dog was subsequently destroyed.
Procurator fiscal Duncan Mackenzie said Williamson was at the popular dog-walking spot when the incident occurred. She initially apologised and asked after the woman's wellbeing but then walked off.
Defence agent Tommy Allan said his client had always been around dogs and there were "no analogous" issues relating to her ownership of another dog.
Following the incident it was recognised that the litter the dog came from was "not without its problems" and its behavioural traits were "unlikely to improve" so the animal was put down.
She was fined £300, with a victim surcharge of £20, and ordered to pay £250 in compensation.
---
A THIRTY three year old man has been fined £550 for behaving in a threatening or abusive manner by shouting, swearing, repeatedly headbutting a window of a house, uttering threats and brandishing a knife and an axe.
Calum Leslie, of Lerwick's King Harald Street, previously admitted committing the offence a Cunningsburgh address on 10 July last year.
---
A TWENTY one year old woman who admitted sending offensive and threatening messages and images to her former partner has been fined £300 and given a community payback order.
Caitlin Hay, of Brae, admitted sending social media messages and images to the man, swearing at him and stating she possessed an intimate photo or video of him at a Lerwick address or elsewhere on 4 December last year.
Mackenzie said Hay had a previous conviction for a similar aggravation towards the same complainer and "perhaps hasn't significantly moved on" from their relationship.
Defence agent Gregor Kelly said her obsession with the man, use of alcohol and her mobile phone were an unfortunate combination and she recognises she needs to "steer well clear".
Sheriff Cruickshank imposed a community payback order under supervision for nine months and fined Hay £300 with a £20 victim surcharge.
He also imposed a one-year non-harassment order meaning she must not contact the complainer.
---
FAILING to provide information to police after being involved in a road accident has cost a 65 year old man £260. 
Andreas Etzel, of Endavoe, Scalloway, admitted failing to give information including the identity of the vehicle's driver to a police officer in the early hours of 25 April last year in a car park near his home.
Defence agent Tommy Allan said his client had been "extremely shocked" after being involved in a "relatively serious incident" shortly beforehand.
He was fined £240 with a £20 victim surcharge and given six penalty points.
Space2face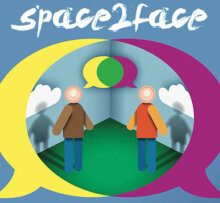 Space2face Shetland is an independent and confidential service which uses Restorative Justice and the arts to bring those harmed by crime or conflict and those responsible for the harm into communication. We enable everyone affected by a particular incident to play a part in repairing the harm and finding a positive way forward.
If you would like to reach out to us, please contact us via e-mail info@space2face.org or mobile 07564 832467.
If you would like to know more, visit our website www.space2face.org, or our Facebook page #space2faceshetland.
---
The project is also currently fundraising to secure office space in Shetland's brand-new creativity and wellness centre, The Mission. If you're interesting in getting involved, or making a donation, head over to www.space2face.org/how-you-can-help