Court / Slow driver wouldn't stop for police
AN ELDERLY woman from Lerwick has been told to get a letter from her GP to prove that she is medically fit to drive after being charged with driving "excessively slow" around the town and failed to stop when instructed by police on 18 November last year.
Agnes Tulloch, of the town's Ronald Street, pled guilty to a charge of careless driving when she appeared at Lerwick Sheriff Court on Wednesday.
The 78 year old caught the attention of an unmarked police car at around 1am on the 18 November when Tulloch drove past the police station and was seen doing what was described as "comfort braking".
Police were unsuccessful in all their attempts to get her to stop her vehicle, including emergency lighting, sirens and hand signal.
She only stopped when she had reached her intended destination.
Defence solicitor Tommy Allan said she and a friend were on her way home from a function, and while she had been aware of the vehicle behind her flashing blue light, it didn't occur to her that they tried her to stop.
Instead she slowed further down to let the police car overtake, he said.
Sheriff Ian Cruickshank said he wanted some reassurance that Tulloch was fit to drive and asked her to be back at court on 27 March with a letter from her GP.
Space2face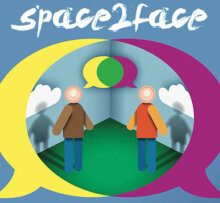 Space2face Shetland is an independent and confidential service which uses Restorative Justice and the arts to bring those harmed by crime or conflict and those responsible for the harm into communication. We enable everyone affected by a particular incident to play a part in repairing the harm and finding a positive way forward.
If you would like to reach out to us, please contact us via e-mail info@space2face.org or mobile 07564 832467.
If you would like to know more, visit our website www.space2face.org, or our Facebook page #space2faceshetland.
---
The project is also currently fundraising to secure office space in Shetland's brand-new creativity and wellness centre, The Mission. If you're interesting in getting involved, or making a donation, head over to www.space2face.org/how-you-can-help